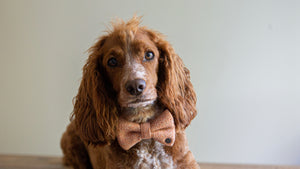 Wholesale & Custom-made
Luxury Dog Accessories
Are you looking for something you can't find anywhere else? Have you trawled the internet searching for the perfect custom dog collar or harness, only to find nothing quite hits the mark? 
Or maybe you're a small business owner on a quest to find wholesale dog accessories that can't be found in every other pet shop, boutique, and online dog shop out there.  
Let's work together to handcraft exactly what you're looking for – no compromise required!
Custom Dog Accessories
Crafted Uniquely for You
If you're a dog owner looking for something that's custom-made especially for your bestie, you're in the right place!
I work alongside dog-devoted owners like you to tailor-make collars, harnesses, bandanas, and the complete matching doggy ensemble of your dreams. 
Perhaps you have a wedding on the horizon that calls for elegant and luxurious dog attire that's completely on trend with your own regalia. Or maybe you're looking for a stunning custom dog bowl or a dog storage solution that's in keeping with your home.
The beauty of custom dog accessories is that you can have exactly what you want. You don't have to compromise on a thing. 
Simply get in touch, and let's make your fantasy a reality.
Wholesale Accessories
for Dog Boutiques and Grooming Spas
Are you a small dog boutique or grooming spa looking to source wholesale dog accessories that stand out from the norm? 
I'll work with you to bring your vision to life. Together we'll explore fabrics, design concepts, and products that will delight your clients and deliver something they can't find anywhere else. 
You might spy something in our collections you like the look and feel of, but you'd like it in a different fabric, colour, or pattern. Or maybe you have your heart set on a collection that's entirely unique and just for your customers. 
You choose the fabric. You choose the style. You choose the feel. 
And then my little crafty hands get to work tailoring your very own custom-made dog accessories that make your vision a reality.
Luxury Dog Accessory for Wholesale Clients
Perhaps you'd value some inspiration from others who've created their own lines of custom dog accessories? I've worked very closely with two enchanting dog boutiques who wanted something a little out of the ordinary that was only for them. Read on to discover how their visions came to life.
Anything But an Ordinary Dog Boutique
Everything But The Dog is a luxury dog boutique and grooming salon in Beverley, North Yorkshire, that's anything but ordinary. Boutique owner Andrea was on a quest to bring dog lovers products that take their breath away – from bespoke artwork to quirky gifts, every item was to be exquisite. 
Andrea wanted an exclusive collection of dog bandanas, complementary collar flowers, and bow ties, so we set to work discussing her vision and desires.
Together we created a stunning line of limited edition bespoke accessories, plus seasonal specials for Halloween, Valentine's, and Christmas too!
Ethical and Beautiful British-made Dog Accessories
Henderson Hounds are a sister-run dog boutique in Leamington Spa, Warwickshire.
They focus on curating beautiful British-made dog products that are kind to the planet and a joy to behold. 
Victoria and Claire came to me seeking their own custom line of dog bandanas, bow ties, and collar flowers.
From sailor bows to vintage dog bandanas, we've handcrafted a bespoke collection of ethically made accessories to proudly wow their devoted customers.
Will you be next? Let's have a chat about your vision!